Songs of Loneliness was recorded in the autumn of 2020; the oldest music on the disc dates back to 2016. Here is a selection of my poems and paintings, which shed some light on those volatile years.
The Poems
Little Wax Candle
This poem was written in October 2018, shortly after I completed my orchestral work The Candle Lagoon and its accompanying fable. I had recently begun sketching Vignette and was reading lots of poetry to help me think differently about how I could structure the piece. 
Chin dribbles
Spots plop
Fallen star

Wick soldier-straight
Flame-eyed
Belly bent
Halo-helmet tangerine

Little candle
Uncook yourself
Squelch apart
Speechlessly
Spill your guts to me.

Poor little
Wax candle
More than the sum
Of your parts

Where Rain Settles (No. 3 from Three Lunar Odes)
I wrote Three Lunar Odes between January and April 2019. Reeling from the sudden and tragic passing of my friend, Alex Ross, I was working on both It Comes In Waves and Constellations at the time.
So, to bed! 
cry stars 
Not to sleep – 
croons the soul
melted
in moon. 

Decreed on high
enthroned
in charcoal –
over a 
sky of
smothered cinnabar. 

Spider weaves
spider leaves
lace about
the orb – 
only see
where rain
settles. 
The Lamb
for Francis Bacon
Francis Bacon is one of several artists (such as Matisse, Giacometti, Kossoff and Henry Moore) whose work I always consult when seeking creative inspiration. This poem was written around the same time as our recording sessions; it seems to share an aesthetic with the inner movements of Songs of Loneliness.
Cupboard piled high
Choked with sliced skins

It began with the lamb

One skin stares into the sun
Another enrobed in teeth
This one with lips
Left of the sternum

The lamb could not die
When limbs wore thin

Skins, charred remembrance
Flakes feather-breath

Stuffed at the tear

Someone opened
This cupboard of
Skins.

        Piled high
                   Skins

                          Have we been lied to

The Paintings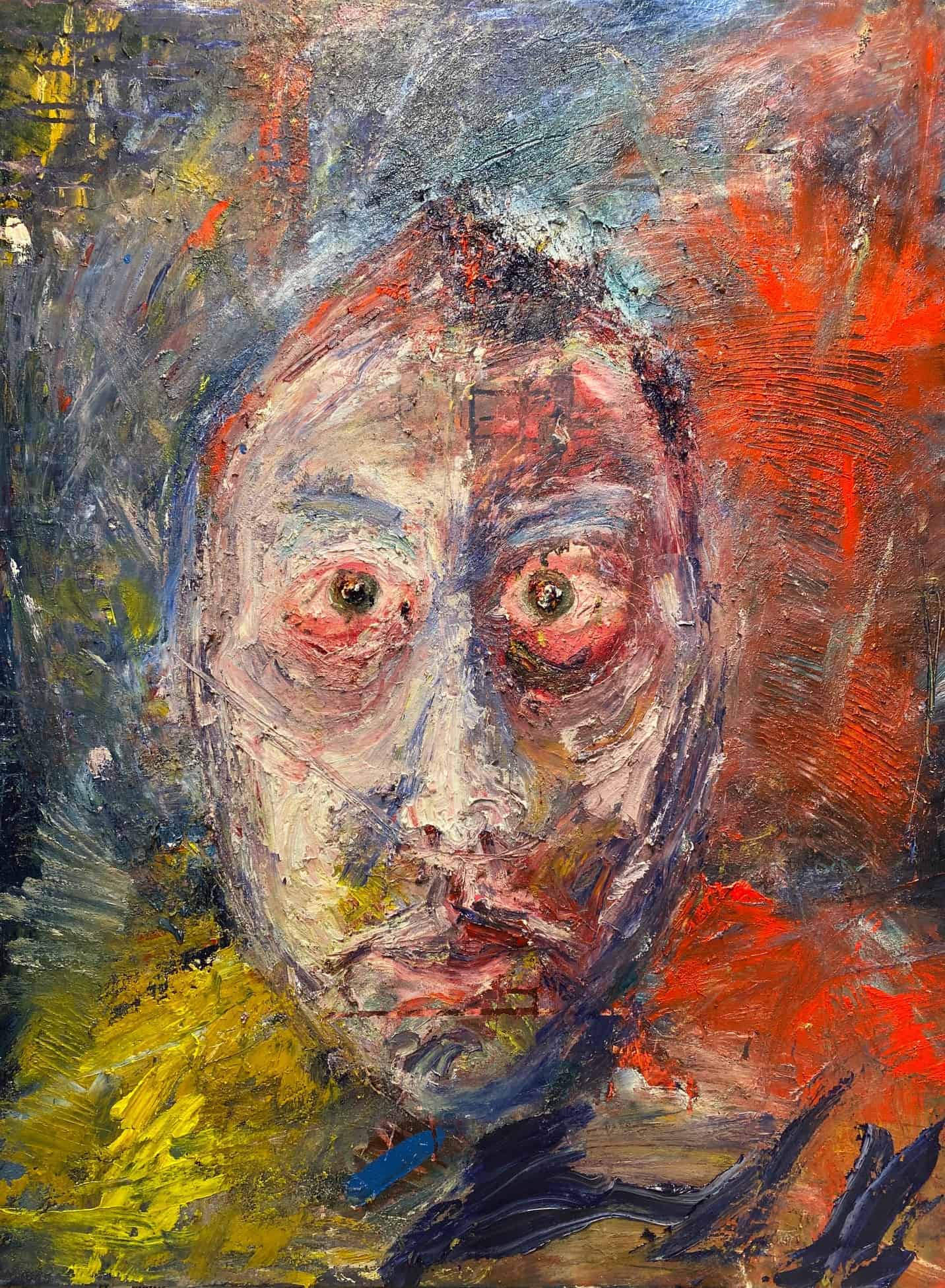 John's Last Day
I painted this portrait after the passing of the bassoonist, conductor and Endymion founder John Whitfield in November 2019. The music I wrote during the first half of 2020 reflects not only the loneliness many of us experienced in lockdown but also my profound sorrow at losing such a wonderful mentor.
The Candle Lagoon (diptych)
The title of this large diptych derives from an orchestral piece I wrote in 2018, which receives its second performance at this year's Proms at St. Jude's. I wrote a short fairy tale to accompany the piece:
It is told that if you pass the Lagoon at sunset, light a candle and whisper your deepest secret to the Waters, the Waters will respond by summoning forth from the depths of the Lagoon a vision of your future. One evening, a child approaches the Lagoon. It lights a candle and speaks forth its secret. It sees only itself, the burning clouds and the setting sun, a ball of fire nestled under the waves. The child concludes that either the old story is a lie or the world is without a future. As the Waters turn cold, it realises these two possibilities may in fact be only one.
Stained Glass (diptych)
Stained Glass was created in response to live clarinet and bass-clarinet improvisations by Raymond Brien, who performs Constellations on this album.
Jerusalem