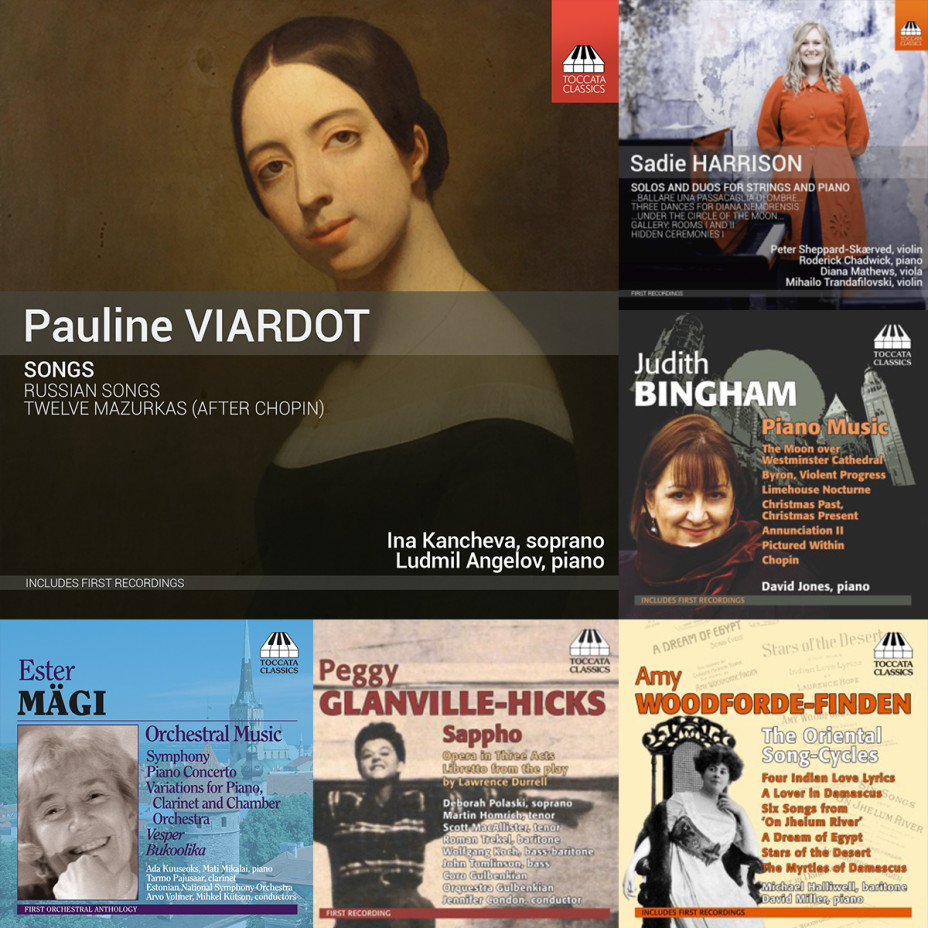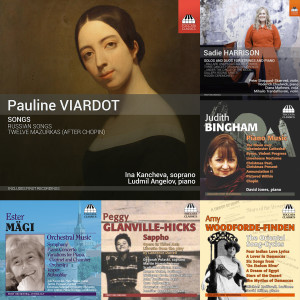 Women Composers Bundle
£50.00Buy Now
Time for a little controversy on this blog – but that's not my aim, which is to try to understand why, when there are so many outstanding female performing artists (and so 'music' itself is not at issue), are there still so few female composers. I think I may have an explanation – and hear me out before you hit the ceiling!
One of the first Toccata Classics releases of the year features fifteen Russian songs and twelve arrangements of Chopin mazurkas by Pauline Viardot (1821–1910), who seems to have held all the brilliant (male!) minds of nineteenth-century Europe in her thrall. She was a friend of Berlioz, Chopin, Clara Schumann, George Sand, Turgenev (who was probably also her lover) and many other artists, writers and musicians. She rubbed shoulders with Brahms (she premiered the Alto Rhapsody), Debussy, Liszt, Glinka, Gounod, Mendelssohn, Anton Rubinstein and even Stravinsky. Schumann's Liederkreis, Op. 24, is one of many compositions dedicated to her. She was fluent in Spanish, Italian, French and English by the age of four, adding other languages later. She studied composition with Reicha and piano with Liszt, and despite her later fame as a singer made her concert debut as a pianist. Saint-Saëns explained something of her impact: 'Mme Viardot was not beautiful: she was worse. The portrait painted of her by Ary Scheffer [it's on the front of the Toccata Classics disc] is the only one that captures the look of this unique woman and gives an idea of her strange, powerful fascination. What made her particularly captivating, even more than her singing talent, was her character – certainly one of the most astonishing I have come across'.
Her compositions were much admired by her contemporaries, but only a handful of songs and instrumental pieces seem ever to have been recorded – the Russian songs that Ina Kancheva and Ludmil Angelov perform in our new release have not been before the microphone before. And yet her worklist contains over a hundred songs, set to French, German, Italian, Spanish, and Russian texts, pieces for piano and violin and six operettas and light stage-works, three of them to libretti by Turgenev. They were performed in Viardot's home theatre, for which an unusual admission price was charged: a potato, and so the theatre became known among her friends as the Théâtre des pommes de terre. The evidence of 'our' songs suggests that these stage-works would reward the inquisitive impresario, but as far as I'm aware none has been performed, let alone produced, for a very long time.
Does this apparent lack of interest come about because the woman composer – and conductor, come to that – is still regarded as something of an oddity, no matter how much we may protest that we have banished the prejudices of earlier times? Toccata Classics has released several recordings of women composers: orchestral music by Ester Mägi (who was 94 on 10 January), piano music by my former neighbour Judith Bingham, the opera Sappho by Peggy Glanville-Hicks, song-cycles by Amy Woodforde-Finden and, most recently, instrumental and chamber music by Sadie Harrison. Now, even though we have plans for more music by Sadie Harrison and other female composers, our track record isn't much better than anyone else's. The old preconceptions that put an end to the composing career of Clara Schumann (for instance) have largely evaporated, and there seem to be more good female composers at work today than ever before – but composers still seem to be predominantly male. So is there a different explanation than social pressure or convention? I think there is, and my hunch is that it's a physiological one.
It strikes me that what gives a composer the tenacity to sit at a desk endlessly turning patterns over in his (or her!) mind is likely to be some form of autism – which is a spectral condition, so that you have it to varying degrees of intensity. Some composers would seem to have been full-blown Asperger sufferers and so to have had the social dysfunctionality that goes with it – think of Alkan, Beethoven, Brahms, Janáček, Langgaard, Martinů, Prokofiev, Shostakovich, Stravinsky, Weinberg and many others. My suspicion, indeed, is that the capacity to take infinite pains over something that's often minutious means that music, mathematics and other such 'mental' disciplines are going to attract and reward minds that are autistic to some degree and find satisfaction in such activity.
Now, autism affects males much more than females, to an extent current estimates of which vary, but the ranges are between twice and sixteen times as much. Since the historical preponderance of male over female composers seems to have survived into our more liberal times, could it be that there are fewer composing women simply because women as a rule are more 'normal' than men, that fewer of them are obsessive to the degree required to be a Janáček or a Shostakovich? Lucky them, indeed: Janáček never enjoyed a natural, relaxed loving human relationship in his life, and Shostakovich was crippled by shyness all his. That kind of creativity is a double-edged sword: we listeners benefit from outstanding music, but its creators did not always know the simple human networks that we take for granted.
I bounced my idea that autism may be a linking factor in the lives of the major composers off Simon Baron-Cohen, Professor of Developmental Psychopathology at the University of Cambridge and Director of the Autism Research Centre there and he thought it might have some merit. When I've mentioned it in conversation, I find that people tend to try to defend their favoured composer, but there's no value-judgement being made here. Indeed, if you bear in mind that Prokofiev (for example) might have had Aspergers, it makes his famously abrupt manner much easier to understand, and accept; he becomes a victim rather than a transgressor.
And is there then anything to the possibility that autism might explain the preponderance of male composers? I might lose some friends, male and female, by saying that, on balance, the women composers I know are a good deal less driven, better balanced, than the men – who would, I think, admit it freely. I'm an individualist, and I'm naturally uncomfortable thinking of other individuals in collective terms. But I wonder if I might have come across something here – and what's so wrong with being normal, anyway?