One of the proudest, happiest and most surreal moments in my singing career to date has been uttering the final notes of a choral concert in Edinburgh's Kirk of the Canongate to the word 'baboon'.
To be accurate, the word was in German – 'Pavian' – and brought to a conclusion the five magnificent, hilarious, and fiendishly difficult Epigrams that constitute the Op. 27 (1926) of the highly regarded Austrian composer Hans Gál (1890–1987). For those of a mischievously curious nature, the other four Epigrams cover such topics as drunken husbands, flirtatious wives, the superiority of wine over education, and even a rather breathless 1920s-inflected critique of what might, in 2019, be termed 'the male gaze'.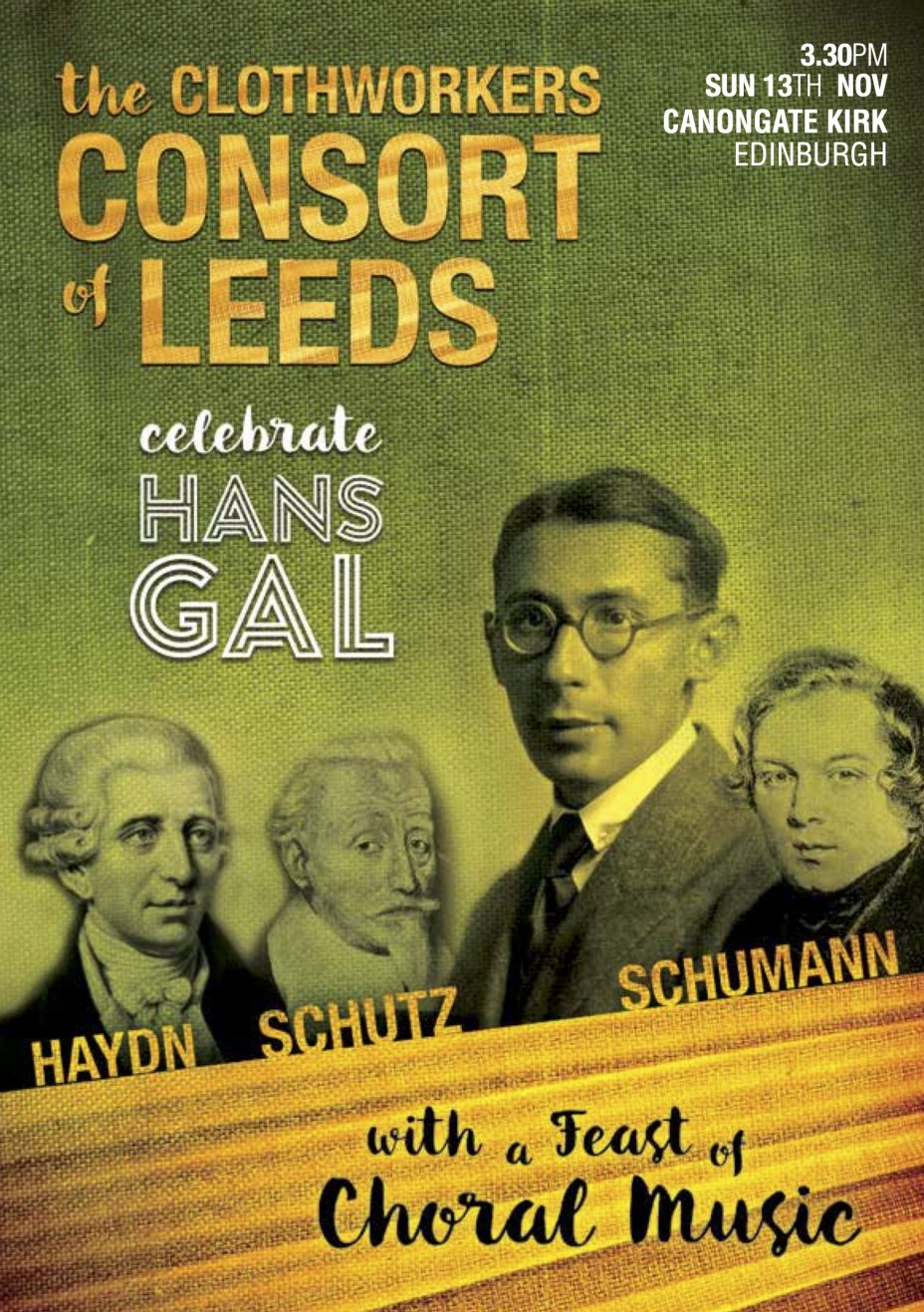 The concert in question was given for the Hans Gál Society's annual meeting (13 November 2016) by The Clothworkers Consort of Leeds (so called since they rehearse in the Clothworkers Centenary Concert Hall at Leeds University). It marked one of the highlights of a four-year project that I headed, titled 'Performing the Jewish Archive'. PtJA's mission chimed closely with that of Toccata Classics: namely (re)introducing music (by Jewish composers such as Gál in our case) that might otherwise have lain forgotten or undervalued. We took Gál to Madison-Wisconsin, Prague, Pilsen, Cape Town and York, consistently receiving reactions of astonishment that such brilliant music remains predominantly unknown.
Even though PtJA has now officially ended, the work continues, probably for the remainder of my career, and quite possibly for the rest of my life. And although Gál is no longer a completely neglected figure only vaguely recognised for his books and editions, there are still wide gaps in the catalogue of his recorded music. The most notable lacuna – at least for me as a singer and choral director – is the almost complete absence of professional recordings of Gál's works for various types of choir.1
There are several reasons for this lacuna: for one thing, Gál's music as a whole has gained a measure of prominence only in the last twenty to thirty years, and the focus so far has been on the riches to be found in his symphonies, operas, quartets and other chamber music. More importantly, musical canons are hard to shift, and why – one might reasonably ask – look elsewhere when the glorious choral masterpieces of Brahms, Schumann, Reger, Strauss, Tippett, Britten and many others already occupy the space which Gál's music might enter? Add to this the small matter of Gál's choral music being as difficult as anything I've ever sung (and that includes Schoenberg, Bach, Stockhausen and Machaut!), and it's easy to see why choral directors have rarely ventured into this somewhat unknown territory.
So it was with considerable trepidation coupled with much excitement that the idea of recording Gál's complete choral works started to formulate in my mind during the PtJA project. A conversation with Eva Fox-Gál, the composer's daughter, and a subsequent visit to the Fox-Gál family home near York, revealed an archive replete with music for vocal ensembles ('vocal chamber music', as Gál termed it) of many different types. Skimming through the scores generously supplied by the family reassured me that Gál did not skimp on quality in favour of quantity. Quite the contrary.
A number of things fascinate and continually delight me about Gál's vocal music. The most immediately apparent feature is that the composer quite clearly understood the human voice to a remarkably intimate degree. Although the music is often fiendishly difficult, it is also invariably immensely satisfying to sing. I'm not synaesthesic, but singing Gál has given me brief glimpses of what it must be like to taste musical colour. It sounds a bit over the top, but it really is quite a visceral sensation.
On another level, Gál's choral music (and much of his other music) is intricately yet transparently contrapuntal, and one can easily see the extent to which he revered Bach, Mozart, Brahms and the other greats of the Austro-German tradition whose legacy he saw himself as bearing. But the prevalence of counterpoint is by no means a mark of conservatism. Indeed, by pursuing it to its logical conclusions, Gál often creates quite harsh dissonances, clashing false relations and deliciously unorthodox cadences – but always totally rational from a harmonic perspective, with impeccable voice-leading and textural balance.
It soon became clear to me that to record Gál and do his music justice, I needed a dedicated ensemble of highly proficient singers with the professional values and commitment to see the project through. The Clothworkers Consort, whilst excellent, is restricted largely to University term-times, during which finding the time and space for a proper recording is nigh-on impossible. Happily, a chance conversation with Bridget Budge (a former Trinity College Cambridge choral scholar, latterly a highly regarded opera and oratorio soloist in Germany and the UK, and at one point my singing teacher!) revealed a shared desire to establish an independent professional chamber choir in the north of England, precisely to approach literature as challenging, ambitious and distinctive as Hans Gál's.
Thus was established 'Borealis: A Chamber Choir for the North', featuring sixteen outstanding choral singers from across the north as far and wide as Manchester, Durham, Huddersfield, York, Sheffield, Halifax, Huddersfield, Wakefield and Leeds. One very deliberate policy has been to establish as equal a balance as possible between young singers, perhaps just out of college, and more experienced singers, many of whom were once Oxbridge or cathedral choral scholars, and who bring a depth of tone and wealth of experience that complements and underpins the light agility of the upcoming generation.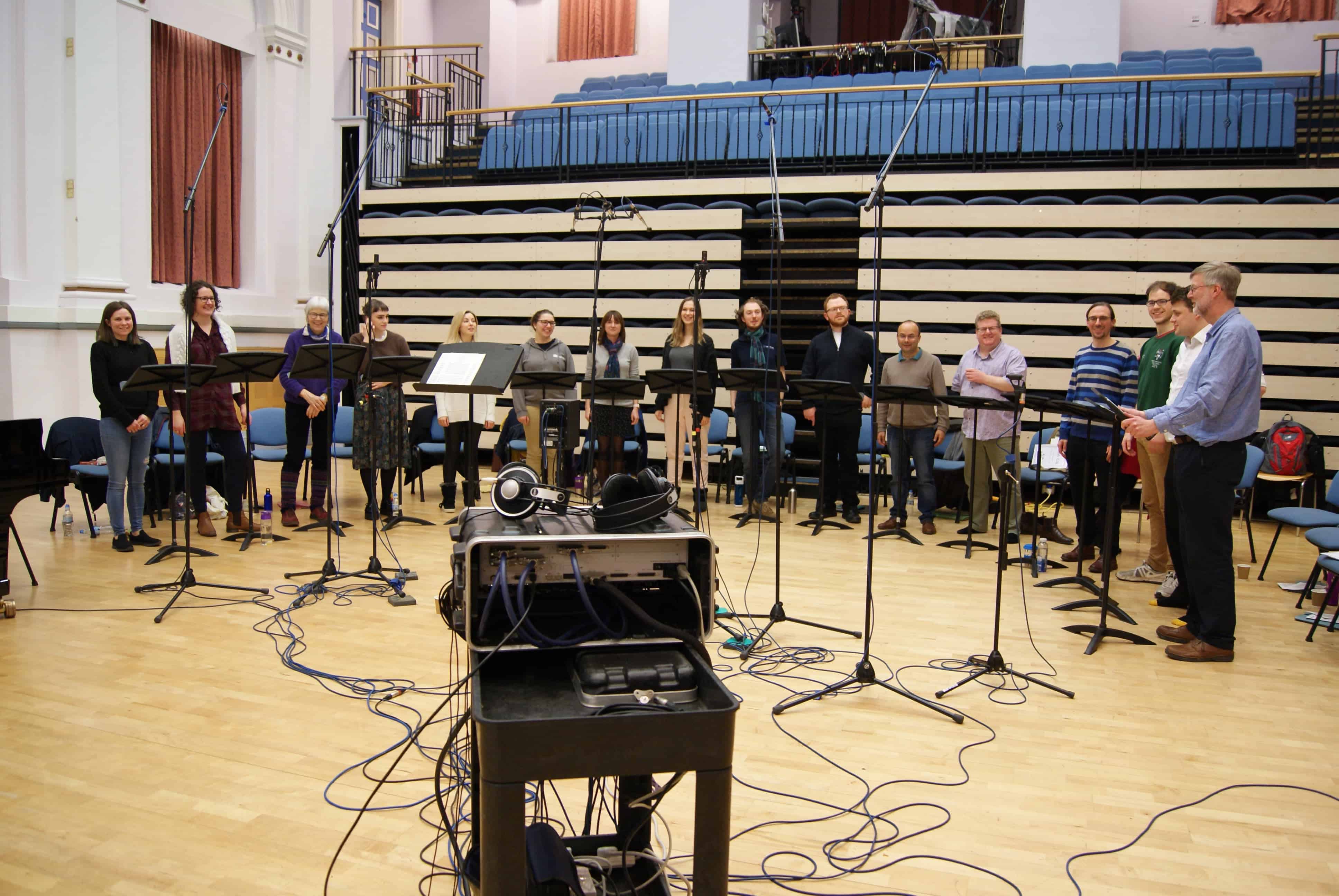 Borealis' engagements in 2018–19 included concerts at the fabulous Square Chapel Arts Centre in Halifax, in Ripon Cathedral and in Bolton Priory, for the Gala Performance of the Grassington Festival. Most significant, however, were the four days of recording in January 2019 in the aforementioned Clothworkers Concert Hall in Leeds, engineered and produced by Simon Fox-Gál, one of the finest in the business and, of course, the composer's grandson.
Borealis recorded an hour's worth of music, but lost a substantial amount of time because a noisy automated air-conditioning system had not been correctly disabled. It's with much relief, then, that I can confirm the recording of the second volume of Gál's 'Music for Voices' in January 2020 (sans aircon), during which time Volume One will also be completed.
So what delights can you expect from these first two volumes? Volume One highlights two major works: the majestic eight-part Motette, Op. 19 (1924) and the aforementioned Epigrams: Five Madrigals after Poems by Lessing (Op. 27 (1926).
The Motette is a veritable tour de force of counterpoint and richly expressive word setting. The text (in German) is 'The sower sows the seed' by the poet 'Asmus', a pseudonym for Matthias Claudius (1740–1815), who is most famous for writing the poem 'Death and the Maiden' used by Schubert. The text for Gál's Motette was originally and somewhat enigmatically titled 'To – on the death of his –'; it was most likely a response to the death of the poet's sister Dorothea in 1766, although the anonymity of the title invites a broader interpretation. It also overtly echoes the parable of the sower related in the Gospels of Matthew, Mark and Luke. Gál's setting, though not 'religious' in any sense, follows the text very closely. Via some extraordinary harmonic and textural devices that push textual expression almost to the edges of the listener's tolerance, Gál evocatively depicts the pain of lost love, the anguish of mourning, the inevitability of life's brevity and the hope of resurrection and redemption.
By contrast, and as already alluded to above, Epigrams is a set of closely observed, humorous and even satirical character studies. For me, perhaps the most remarkable aspect of these five miniature masterpieces is that in many places the music itself is genuinely funny, and mirrors the text so perfectly that the two elements are now inseparable in my mind. Listen out for the unhinged, Laurel-and-Hardy-like setting of 'my devil of a husband has gone out drinking!' towards the end of the first Epigram 'Still life'; or the sobbingly saccharine eulogy for Mimelus the baboon in the second half of No. 5, 'Epitaph'.
The remainder of Volume One features a partner-piece to the Epigrams—Satirikon: Four Aphorisms for Four-Part Male-Voice Choir, Op. 72 (1937) – and three sets of SATB partsongs, including the delightful Four British Folksongs (no opus, 1969), and Four Madrigals on Elizabethan Texts, Op. 51 (1939).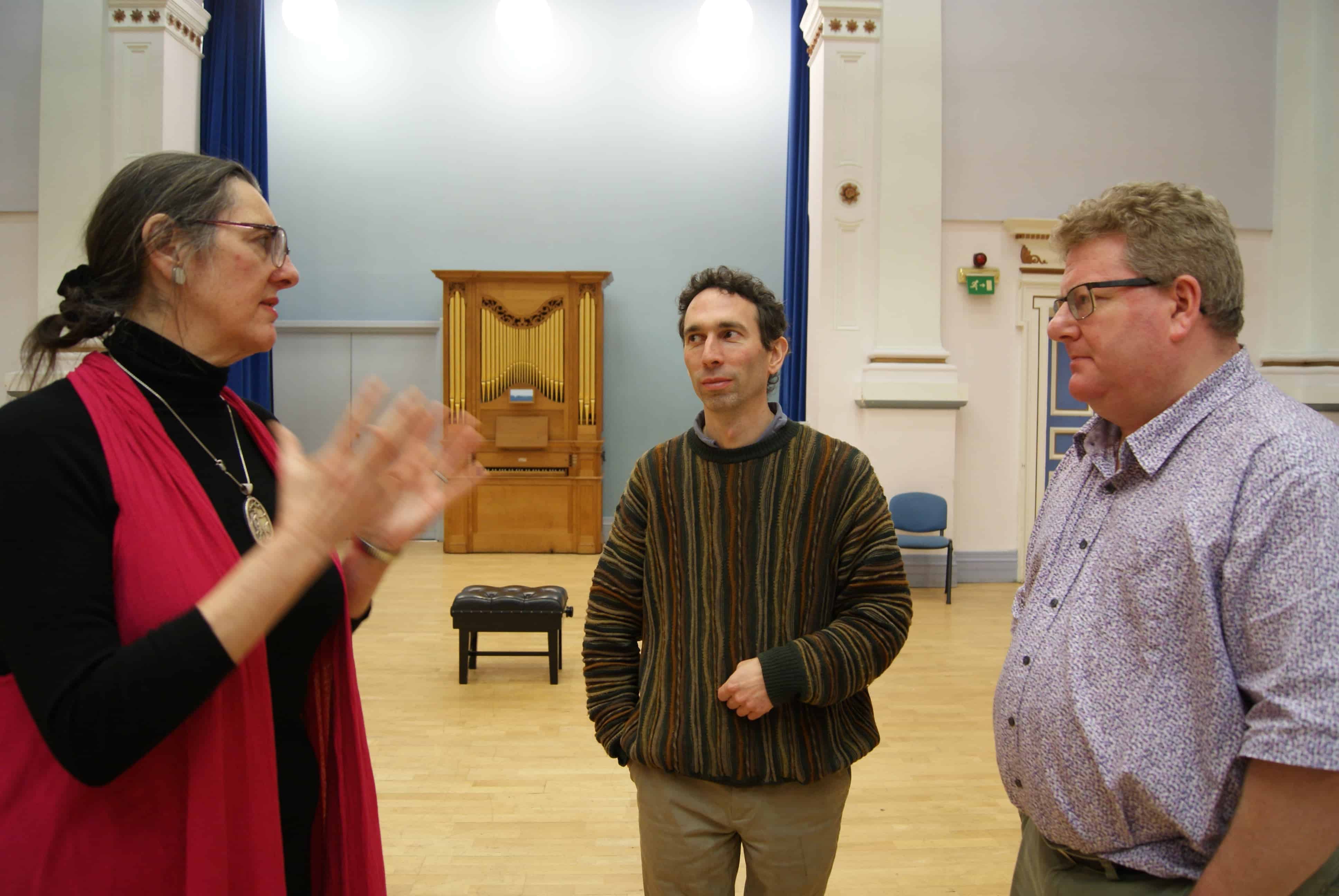 Volume Two again introduces 'lighter' repertoire alongside more serious texts, and this time features pieces for women's as well as men's and mixed voices. We are delighted also that pianist Ian Buckle has joined us for our second recording. Ian will be known to Toccata followers for his recent disc of Humphrey Procter-Gregg's chamber music, as well, perhaps, as recordings with the John Wilson Orchestra (Gershwin's New York Rhapsody, captured live at the Royal Albert Hall), and the Royal Liverpool Philharmonic Orchestra alongside duo partner Richard Casey, conducted by Vasily Petrenko (Saint-Saëns' Carnival of the Animals, released on Warner Classics in 2017). Gál takes no prisoners with his piano-writing, but Ian has already proven himself their worthy adversary in rehearsals: three strikingly beautiful settings of Rilke for women's voices and piano, Op. 31 (1928) give full rein to his delicate touch and fluid, lyrical playing, a joy both to listen to and to sing with.
Also included in Volume Two are Drei Porträtstudien ('Three Portrait Studies'), Op. 34 (1929) for men's voices and piano, sets of a cappella songs for the men and women of the choir separately and together, and contrasting settings of Three Lyrical Poems (SATB and piano) by the Irish poet Thomas Moore (1779–1852). Recorded again in the Clothworkers Concert Hall at the University of Leeds, Ian Buckle will accompany on one of two almost brand-new Steinway model D grand pianos, courtesy of the recently attained All-Steinway School status of the School of Music.
We are immensely proud to be collaborating with Toccata Classics on this series of recordings, given the close kinship of Martin Anderson's goals with our own and his personal acquaintance with Hans Gál. Volume One is anticipated for release in early summer 2020. In the meantime, Borealis will begin to increase and broaden its activities geographically, and we are currently planning an official launch tour in autumn 2020 that will feature Gál alongside a broader range of repertoire. Please check our website for details as they emerge.
However, to make the 'Hans Gál: Music for Voices' project as successful as possible, funding is desperately needed to replace the now-finished PtJA grant originally provided by the UK Arts and Humanities Research Council. We hope you will therefore consider supporting our upcoming campaign if you can, and help to share it far and wide with your friends and family! Thank you in anticipation of any assistance you can give, however small or large. Every donation makes a real difference.
One choral recording (Voices in Exile) featuring two sets of Gál's SATB partsongs, alongside choral works by Jean Berger, was issued in 2005 by the Bucks County Choral Society Chamber Choir, conducted by Thomas Lloyd – but it is no longer available, even through the choir's own website.